Service
Corporate financing
We provide a wide range of support that covers anywhere from startup fund, operational fund to equipment fund.
At Rescom Groups inc. we are here to help expand your business through our corporate financing service.
Through our speedy and flexible screening process, we can respond to the capital needs of various companies.
Receivable financing service
If you are a company that holds a large number of receivables (whether in small or large receivables) and is having a hard time with the gap between the payment cycle and capital demand period, collection rate, or borrowing working capital, the receivable financing offered by Rescom Groups inc. can provide you the solution.

Receivable financing is a type of financing where companies use their receivables they hold against their customers and individual clients as collateral※ to receive loan from our company. By using this loan service, companies can quickly procure fund without having to wait on recovering their receivables. As a result, companies can improve the cash flow on their financial condition. ※It cannot be used for receivable with special agreement that prohibits transfer

In order to setup the collateral on the receivable, your company must first execute the receivable financing agreement with our company, then setup said receivable as a transfer collateral, and must establish the fact that your company has transferred said receivable to our company by registering at the Legal Affairs Bureau. In such case, it will be recorded in the receivables transfer registration matters summary file, but it will not be recorded in the certified copy of commercial registration.
As long as the payment is made on time to our company, your company can procure funds without causing obligor to worry about finance and business conditions.
Receivable that can be used as collateral
The type of receivables that can be used as collateral to receive loan are learning materials, art objects, jewelry being sold on credit loan, and receivables based on commercial transactions such as equipment/machines, etc. being delivered to the company. We should also note that in the case of transaction where receivable is being purchased, the purchaser is required to notify debtor and gain debtor's approval regarding the transfer of said receivable. However, since receivable financing does not entail the purchase of receivable, purchaser does not have to send notice and gain debtor's approval. For this reasons, company can setup collateral on its receivable without causing worry to its debtor.
Terms of loan table
| | |
| --- | --- |
| Type of companies that can use the service | Company approved for loan based on the screening process of our company |
| Use of fund | Working capital (you can use it as the fund for stocking/tax |
| Loan amount | Within 500 million yen |
| Repayment period | Within 60 months |
| Number of scheduled repayments | Within 60 times |
| Method of repayment | Lump sum repayment/equal monthly payments with interest/principal equal monthly payment |
| Loan interest rate | Real annual rate 17.80%~4.00% |
| Ratio of damage amount to the principal amount | Actual 20.00% |
| Security/guarantor | As a general rule, not required (However, depending on the screening result, joint guarantor/security (real estate/receivable) may be required. ) |
| Main repayment examples | 【Terms of loan】 Borrowing amount  Interest Repayment method  Number of scheduled repayments "Number of days to calculate interest" "Total of repayment amount" "Breakdown: principle" "Breakdown: interest" "Outstanding principle" |
Partnership and M&A, etc.
1.Capital alliance
Rescom Groups accepts items such as equity finance (common shares, preference shares, class shares such as share option) and dead finance (convertible bond), etc. as the method for companies to procure funds. Please use our service so that your company can strengthen its financial base and secure the growth capital. In addition to offering net investment, Rescom Groups also offers a growth strategy proposal that are mutually beneficial to both parties, such as planning for a launch of new business through business alliance that can capitalize on each other's characteristics as well as considering for an establishment of joint venture. Please feel free to contact us regarding these services.
2.Business alliance
Rescom Groups inc. is looking to form alliance with companies so that both parties can grow together by utilizing each other's characteristics and strength.

【Characteristics and strength of Rescom Groups inc】
・Consulting ability(Corporate revitalization
・business revitalization、M&A、due diligence of company and receivable )
・Utilization of finance funds
・Receivable control system(receivable limit・recovery・office work proxy, etc.)
・Development of various systems
・Fund composition/recruiting/operation
(※Reference:Permits already obtained by Rescom Groups)
We are also looking for business alliance who can introduce/mediate us to various leads, so please feel free to contact us.
3.M&A
Rescom Groups inc will carry out a proper due diligence for companies that are uncertain about continuing their business due to factors such as a lack of successor and poor business performance. We will present an agreeable M&A proposal for both parties by providing reasonable evaluation by calculating primary corporate value and its future value. We will make a proposal to business entities of all industries, including the following entities.

【Type of companies preferred by Rescom Groups】
・Financial company(nonbank, credit card company, finance company, lease company, etc.)
・System company, etc.(various business system, WEB system, creation of homepage, e-commerce
and app. development, etc.)
・Real estate company(sales/purchase, mediation, management, etc.)
・Service company(Aesthetic salon, language school, sports gym, etc.)
・Merchandising company(Jewelry, watch, cosmetic products, beauty equipment, etc.)
・Used car sales company
・Distribution/transport company
・Temporary employment agency

【Flow of M&A】
Consultation/hearing

Execution of nondisclosure agreement

Implementation of simple due diligence

Execution of basic agreement

Implementation of detailed due diligence

Selection of M&A method

Closing
4.Corporate revitalization/business revitalization
Rescom Groups inc will provide advice on various issues regarding current struggles of companies such as performance improvement and securing of working capital. We will come up with a proposal for financing (equity, dead, bridge, refinance, etc.) and managerial betterment method in line with the content of a consultation. We also dispatch personnel with specialized knowledge and introduce companies as needed.
5.Receivable purchase
Rescom Groups inc purchases corporate receivables and individual receivables. We will offer purchasing price that is advantageous to the company by calculating the purchase amount based on the track record of each receivable and receivable type, etc. Please also feel free to consult us on receivables that you are already considering to sell to other purchaser.

【Individual receivable】
・Loan receivable
・Shopping credit (Individual article installment)
・One's own company credit (One's own company installment)
・Various loans(card loan, free loan, personal car loan, housing loan)

【Corporate receivable】
・Loan receivable
・Lease receivable
・Business loan
・Sales receivable

【Flow of M&A】
Consultation/hearing

Execution of nondisclosure agreement

Implementation of simple due diligence

Presentation of purchase amount

Execution of receivable transfer agreement

Transmitting of purchase amount/delivering of related documents

Receivable transfer notice or receivable transfer registration
Asset finance
1.
BRAIN GROUPS INC. will handle a wide range of services that include the handling of real estate finance (loan backed by real estate security, etc.), housing loan (mortgage loan), and arrangement of the securitization of applicable receivable (MBS issue).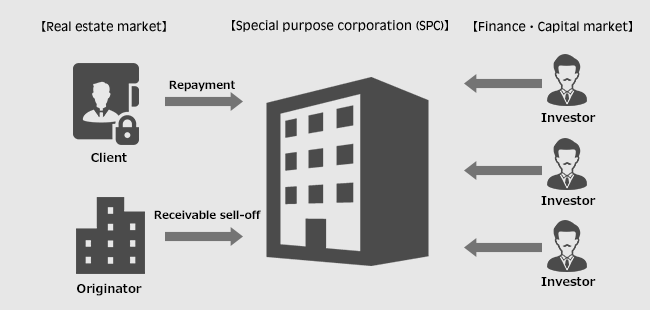 2.
Here at BRAIN GROUPS INC, if a company holds asset where lease or installment transaction has already ended, we will evaluate its value and offer a loan, as long as the ownership of said asset has transferred to that company. We can also make financing proposal on items such as a set of movables, inventory, and accounts receivable. Furthermore, we will also provide service to arrange the securitization of these receivables (ABS issue, etc.) in the same way as MBS.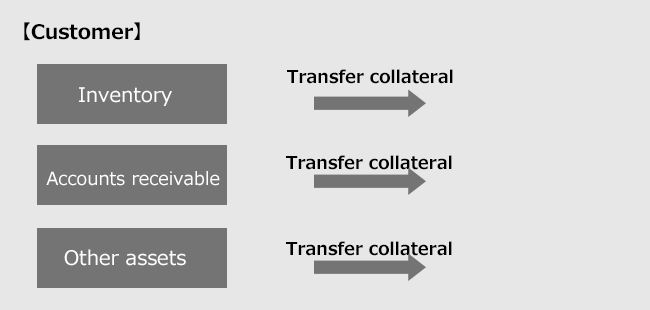 BRAIN GROUPS INC.
1441 Kapiolani Blvd.,Suite 910,Honolulu,Hawaii 96814 USA